We are soil. Our bodies are built from nutrients that plants mine from fields and pastures. Every plant we harvest takes nitrogen, phosphorus, potassium and other nutrients from soils. We can add back the nutrients that crops extract, and we can limit the loss of soil nutrients to erosion and runoff. But, to grow abundant crops for years to come—to avoid starvation—we must keep soils healthy and safeguard soil fertility.
Each year there are 80 million more people to feed!
A fair trade coffee farmer picks organic coffee beans from a tree
istockphoto.com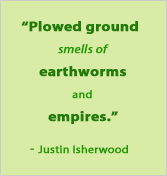 Farms must protect the environment. Water to irrigate fields lowers underground water reserves in aquifers. Mineral fertilizers, manure, pesticides, and the soil itself wash into groundwater, lakes, rivers, and oceans, or enter the atmosphere. These losses from soil affect water quality, aquatic habitats, and climate. Wise choices reduce environmental risks. Many growers are making them.
Only a small bit of the Earth's surface is farmable.