Come and Explore!
Discover the amazing world of soils with images and information from the Dig It! The Secrets of Soil exhibit from the Smithsonian's National Museum of Natural History. This exhibit was on display at the Museum from July 18, 2008, through Jan 10, 2010.
Watch the new curator-led tour of the exhibit to join the Dig It! experience and get inspired by soils!
While the physical exhibition is now closed, the exhibition content will be available on this web site indefinitely and new web content will be added over the coming months including a new soil blog.
New Interactives Online:
Hidden Horizons Puzzle Game >>
Soil Order Explorer >>
Soil Mineral Interactive >>
Where in the World Game>>
Underneath It All Explorer >>
State Soil Interactive >>
Big Picture Game >>

New Videos Online:
Chef's Challenge >>
Soil: The Secret Ingredient >>
Get Soil Savvy! >>
Matters of Life and Death >>
Educational Materials:
Online Activities, bookmarks, and interactives
To order printed materials and CDs email us
Orchid Ecologist, Smithsonian Environmental Research Center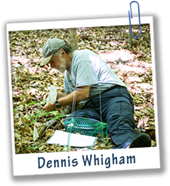 Dennis is an orchid ecologist at the Smithsonian Environmental Research Center (SERC). He studies the many fascinating ways that orchids interact with soils and soil microbes.
Click here to meet Dennis Whigham >>
Featured Topics