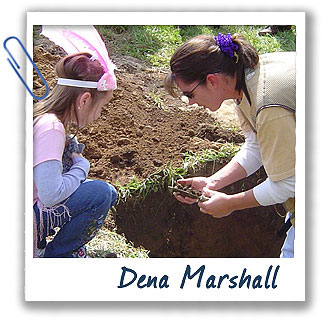 Dena Marshall
USDA/Hoosier Hills
Soil Survey Project Office
For Dena Marshall getting dirty is one of the best parts about investigating soils.
When did you know you wanted to be a soil scientist?
My mom told me I was destined to be a soil scientist judging by the amount of mud pies I ate!
Now you spend a lot of time mapping soils. What's that involve?
We investigate soils down to 60-80 inches. We look at different textures, colors, what it feels like, what it's made of, and the slope of the landscape.
You have to be curious to be a soil scientist. Just when you think you have it all figured out, you dig another hole and see something unexpected that raises new questions to answer!
What is your work philosophy?
My motto is: "It's been a good day when you got dirty!" I don't walk around the puddles. I walk right through them. I must have been a pig in a former life. The sloppier it is, the happier I am!